The option menu can be opened from the main toolbar: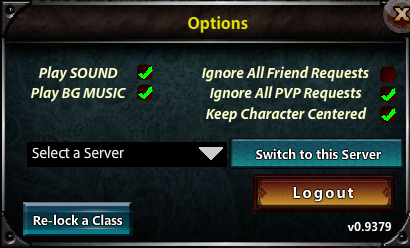 The options menu is divided into several sections:
Checkmark options
Play Sound: Enable/Disable SFX (Sound Effects)
Play BG Music: Enable/Disable background music.
Ignore All Friend Requests: When checked you do not get any popups for friend requests. This does not effect guild requests when you are guildless.
Ignore All PVP Requests: When checked you do not get any PvP/GvG requests.

Switch server
Allows you to select a server and switch to it. If you are inside a dungeon, you are transported outside the dungeon on the new server.
Logout
Will log you out of the game.
Re-lock a Class
The main reasons for re-locking a class are:
To start an alt on level 1 (again), to get some quick season levels
To make a class your main class, but you unlocked that class in the past. You re-lock it, so you can buy it again at the level of your main.
Once you have selected this option the following warning pops up:

If you press "I Understand" you get the following dialog: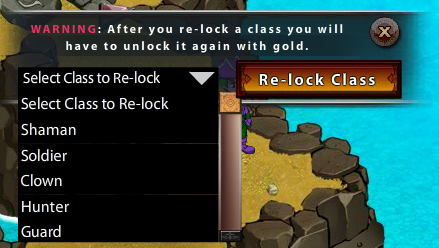 You can select any class, except your current class. If you press "Re-lock Class" your selected class will be terminated.
(This does not effect any class-related items you bought. Once you unlock the class again, the items are back in your inventory, it also does not refund any

)
Version
In the bottom right corner, you see the version number of the game. For a list of recorded versions see Changelogs.